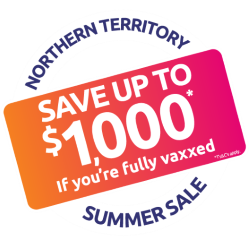 The NT Summer Sale took place between October 2021 and 31 March 2022, and allowed visitors to enjoy a $200 discount for every $1,000 they spent, with savings capped at $1,000 per eligible booking.
For every eligible booking made, travel agents went into the draw to win a NT prize package valued at up to $5,000. There were fifteen up for grabs!  To be involved, agents needed to work with one of our campaign partners - Helloworld / Viva Holidays or Holidays of Australia / NT Now.   
Fifteen packages up for grabs
Every month, we randomly drew one winner who will receive a $5,000 prize package to the NT, and at the end of the campaign a further 10 packages will be drawn for overall campaign top sellers.
It's never been easier to visit the NT than now!
Prize packages include up to $1,000 (inclusive of GST) towards flights to the NT and up to $4,000 (inclusive of GST) to be spent on NT product booked through the NT's visitor information centres - Tourism Top End and Tourism Central Australia.   
Congratulations to our prize winners:
October: Lorraine Stone, Holidays of Australia
November: Shari Bennett, Holidays of Australia
December: Terry Wilkinson, Holidays of Australia
January: Paul Lipschinski, Holidays of Australia
Bookings must meet the following criteria:  
the booking must be made through one of our campaign partners: 
Holidays of Australia / NT Now or Helloworld / Viva Holidays
travel must be booked within the campaign period from 1 October 2021 to 31 March 2022 or earlier if funds allocated for the discount are exhausted.
travel departure must occur on or before 31 March 2022
every traveller who is 18 years of age or older under the booking must provide a digital certificate or any other documentation issued by the Australian Government stating to the effect that the individual to whom the document is issued has received all required COVID-19 vaccinations, on arrival into the NT
the booking must be valued at a minimum of $1,000 (inclusive of GST) which may include any bookable flight, accommodation, tour, attraction or hire vehicle inbound to, or from within the NT
the booking must have a minimum of 80% of its monetary values attributable to product or services that are obtained in the NT. For example: hotels located in the NT, travel tours that start and end in the NT, car rentals with pick up and drop off in the NT and flights to and from the NT
Intra-Territory travel by NT residents that satisfies the criteria above are eligible with the exception that any interstate travel components for NT residents will be excluded. COVID-19 vaccination certificates must be presented at the time of booking for NT residents.
More information:
•    check the campaign FAQs 
•    for campaign assets, click here 
•    for campaign images, click here 
•    for Northern Territory images, click here 
•    for more resources on how to sell the NT, click here
•    still can't find what you are looking for - contact the Tourism NT Trade Team [email protected]
Trade permits:
NSW Permit: TP/00108
ACT Permit: TP 21_01592
SA Permit: SA_146379
Terms and conditions for NT Summer Sale 21/22 Trade Incentive Campaign
Page last updated on 05 April 2022